Gain Control Over
Your Business with BOB
Discover a powerful and robust business operating system designed to help you accelerate your success through battle-tested strategies, formulas and processes.

Featured on ABC, CBS, NBC and Entrepreneur on Fire for his work

Increase Sales from $500k to $11.8M as President of an KY-Based Ad Agency

2019 Business of the Year Recipient

Built and sold multiple companies

Certified Direct Response Copywriter, Client Acquisitions Specialist, Customer Value Optimization Specialist
Hicks is a seasoned operations leader, creative problem solver and revenue strategist with extensive background in building performance-based teams, departments, and organizations that empower clients and consistently exceed expectations. As the President of Traffic Titans, he initiated a new business operating system that led to reduced costs, the rapid scale of operations, and leading-edge technology that quickly thrusted the position of Traffic Titans as a leader in the Financial Marketing Industry. Hicks has the unique ability to identify an organization's pain point and innovate best practices, processes and procedures that overcome any challenge.
What can EpicOS do for your business?

Learn how to build a dream team that will help you build your empire instead of dismantle it

how to run the perfect meeting that leads to resolving issues, higher productivity and less wasted time

How to get greater accountability from your term

How to set goals and achieve them with greater success

How to get your freedom by turning your business into a money-making machine
BOB (The Business Operating Blueprint)
Has your business hit a wall? Do you feel stuck?
BOB is a simple, battle-tested business operating blueprint that can help your organization simplify and achieve its vision.
Look at your business from an entirely new perspective – through the lens people, picture, proof, process, planning and problems. The BOB Model provides a visual representation of the six fundamental components that must be managed and reinforced in every business in order for it to run smoothly and efficiently.
Are You Ready for a Breakthrough?
Implementing BOB begins the process to reinforce the 6 fundamental components of your business. The first step in that process is to schedule a brief, 60-Minute Meeting. To schedule that meeting click the button below.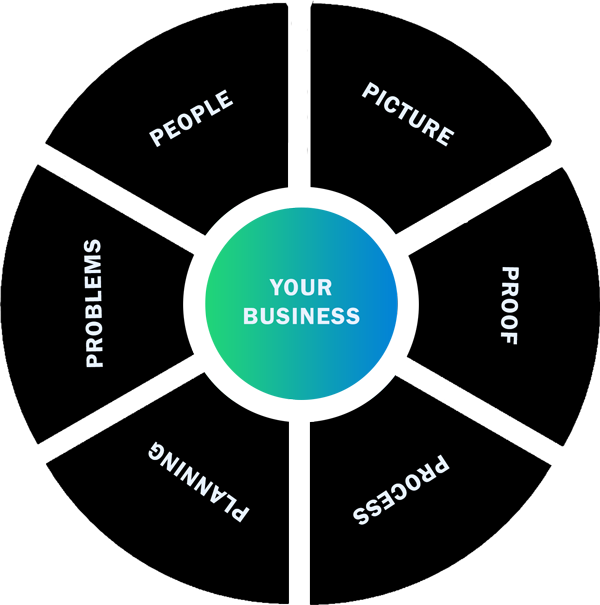 Get Organized and Reach The Next Level In Your Business
Request a free consultation to learn more about how BOB can benefit your business.